DeuCon Chemielogistik GmbH - Logistics with passion
Your specialist forwarder for hazardous goods in silo and tank containers
For more than 30 years, DeuCon has planned and been responsible for transports for and with our customers from the chemical industry. We are the professionals for heavy and difficult transports in the European intermodal network. Sustainability has been one of our drivers since the company was founded. Modern equipment is a matter of course. Always ahead, because we go one step further and develop new technical solutions, as special as the needs of our customers.
Whether bulk goods, hazardous goods or explosives for civilian purposes: we find a safe way.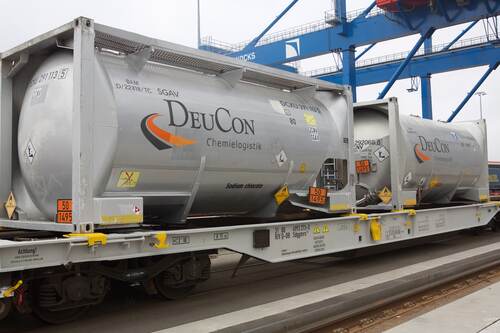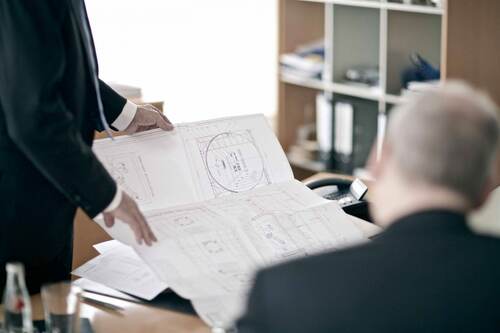 Expertise as a foundation
And at DeuCon, this expertise is based on the solid foundation of several decades of experience as a specialist freight forwarder. Our team organises intermodal transports and finds the optimal solution for every challenge. We work with a well-established network of reliable partners. Knowhow, special equipment and the coordination of all work along the entire supply chain ensure an efficient solution to the specific logistical task.
Just passion for logistics
Liquid products

Transport in tankcontainers

A large fleet of our own tank containers is in use throughout Europe for our customers: technically state-of-the-art and regularly inspected. Many are custom-built, including tailor-made solutions for liquid products.

With DeuCon, you can rely on state-of-the-art technology and experienced, well-trained personnel for the transport of chemicals and hazardous goods.

We are the professionals
Bulk cargo

Silo transport

Sensitive bulk goods need professionals throughout the entire supply chain, from loading and transport to safe unloading at the customer's premises. This is where our special equipment comes into play, if necessary individually adapted to the customer's product.

Our silo transport services can be summed up in three words: clean, safe and efficient.

with technology and know-how
Hazardous goods and explosives

When it comes to transporting hazardous goods, we are experts: ADR, RID, GGVSE or IMDG are not mysterious acronyms, but the basis of our daily business, the transport of hazardous goods.

In addition, DeuCon is one of the few providers nationwide who are qualified to transport and handle explosive materials of dangerous goods class 1.

on the safe way
Service
We transport economically
Tried and tested concepts, optimal coordination and precise costing form the basis of our offer. We not only have the transport in mind, but all the work along the entire transport chain. Modern equipment supports our experts in relieving you and getting your goods from A to B efficiently, on time and safely.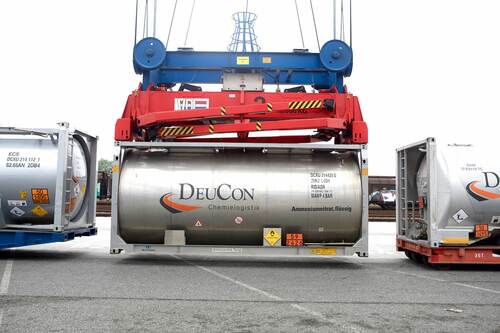 We transport safely
Our specialisation in particular chemical and hazardous goods transports ensures experience and know-how where others pass. Continuous qualification, careful avoidance of risks and reliable documentation are indispensable.
When transporting civil explosives, our concepts and individual solutions ensure that all dangers are kept to a minimum.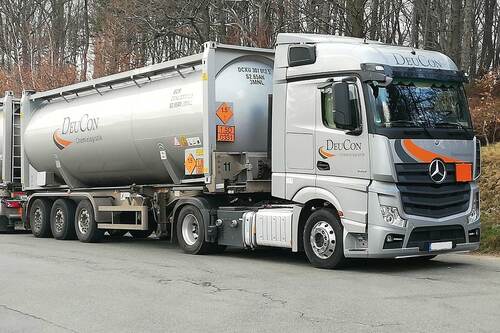 We transport sustainably
As a medium-sized company, we think and act ethically and in the long term. Consideration for people and the environment is a major concern for us.
Low-emission vehicles and multimodal transport routes with as much rail transport as possible help us to put these principles into practice. That is why we also have a modern fleet of vehicles and light equipment and are constantly looking for new, more efficient transport solutions.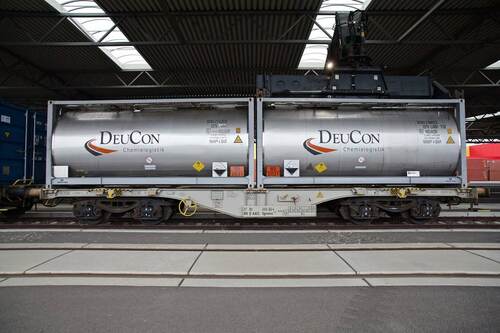 We transport individually
Continuity creates security: that's why our customers have a fixed contact person for scheduling in the long term: this facilitates communication and saves cumbersome coordination processes. We also create and manage on-demand concepts and take care of delivery planning for our customers.
Our concepts are as individual as our customers' products.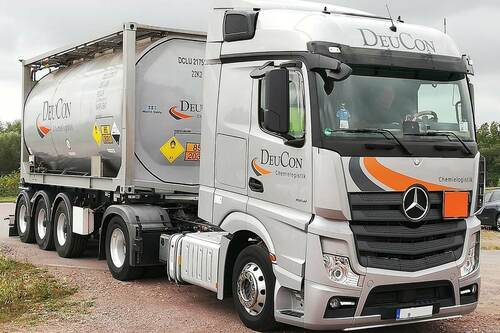 We transport innovatively
We often go one step further and develop new technical solutions, as special as the products of our customers themselves. We work closely with the authorities and the Federal Institute for Materials Research and Testing (BAM) in the planning and design of various technical solutions along the supply chains.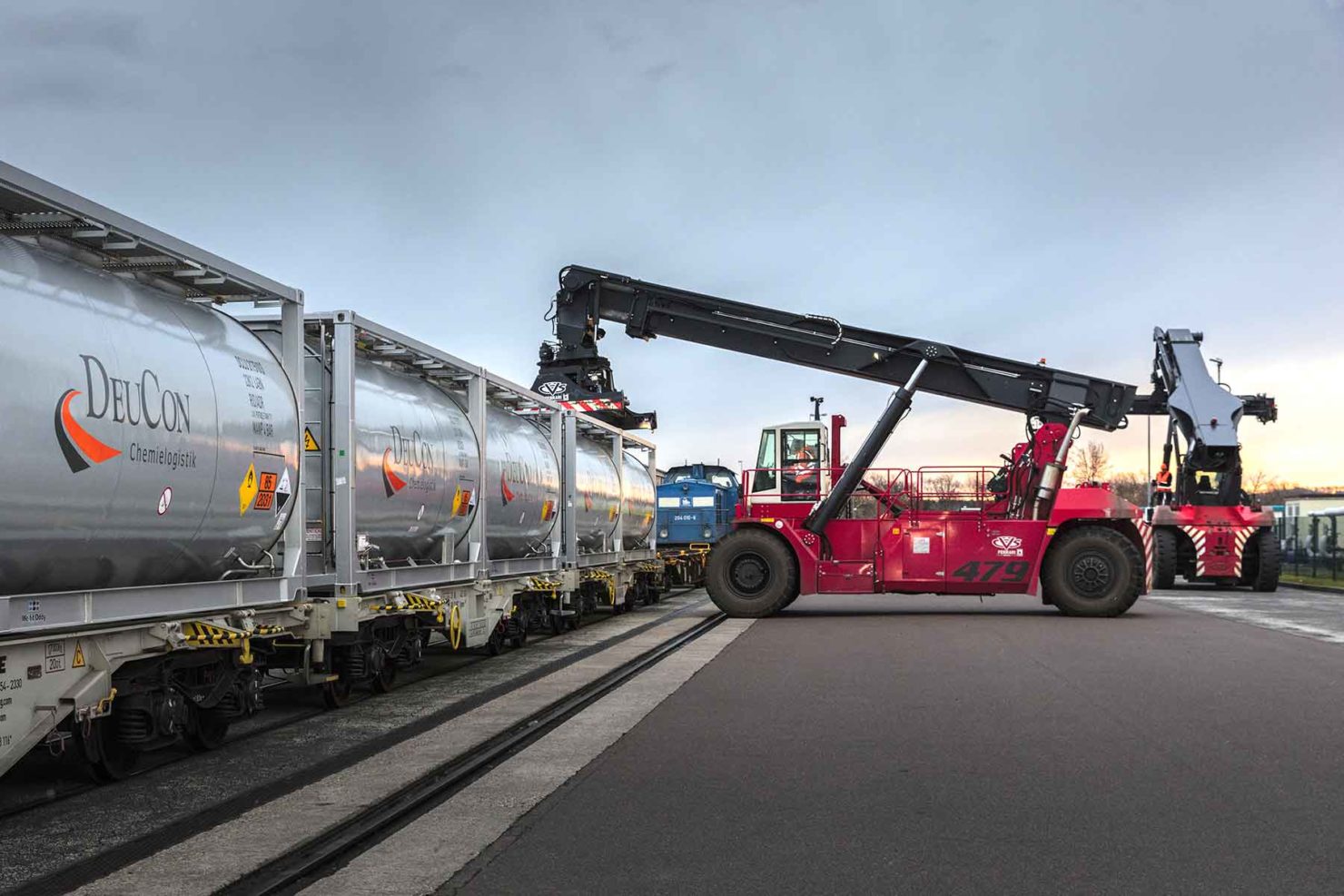 DeuCon container train
BLOCK TRAIN Halle - Schkopau - Rostock
DeuCon operates its own container train between the seaport of Rostock and the Central German chemical triangle. This provides an ideal connection between the ferries to and from Sweden and Finland and the Halle-Leipzig-Bitterfeld area. This train is available to all interested parties, whether box, silo or tank containers.
Our timetable is ideally coordinated with the timetables of the ferries to Sweden and Finland and connects Scandinavia via Rostock with the Central German chemical triangle overnight. Containers can be checked in for shipment in Sweden, Finland, Rostock, Halle and Schkopau or picked up after transport.
On request, we also offer the first or last mile via truck in the Rostock, Halle and Schkopau area. If you have so far mapped more distant pre- and on-carriage routes from/to Rostock by truck, please note the possible higher payload in your containers by using our train, as in combined transport a maximum total weight of 44.0 tonnes is possible for trucks.

Further details, (timetable) information, prices and bookings are available at freightbooking-rail@deucon.de.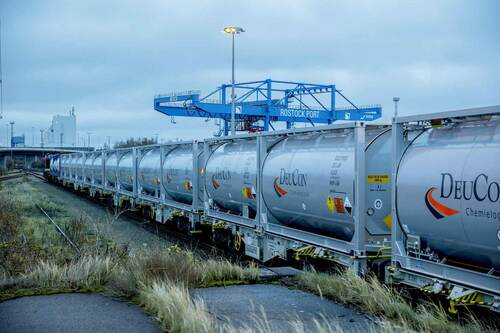 Safety
The quality and safety regulations for logistics and chemicals and the requirements of our customers are the benchmark for our actions. Your trust is our responsibility.
We fulfil this responsibility with a modern, well-maintained and regularly inspected fleet of vehicles with the highest safety equipment. Repair backlog is a foreign word to us.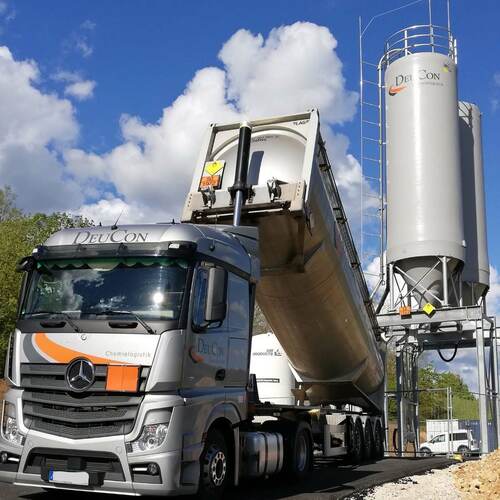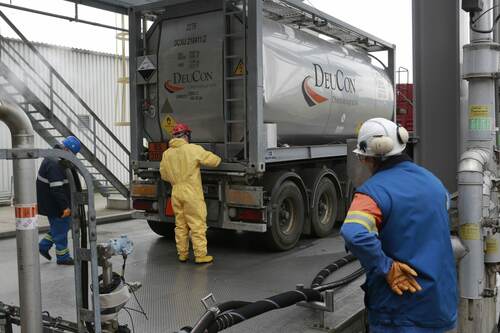 ADR dangerous goods transports require competence and expert knowledge: The high level of training and the regular training and further education of our drivers and employees points DeuCon beyond the necessary quality and safety regulations.
We also apply our high safety standards to our partners and keep an eye on all processes along the entire transport chain with our experience.
Your career at DeuCon - Your advantages
Commercial employees
We offer:
Permanent employment
Flexible working hours and home office models
Special benefits
Very flat hierarchy in a highly motivated and experienced team
Assignment possible according to the employee's interests
Individual promotion and development opportunities
Exciting transports and logistical solutions; not just run-of-the-mine
Office in Nordheide region, without driving stress
Commercial staff (drivers)
We offer:
Fair and punctual payment of salary and allowances
Modern tractors and personal protective equipment
Consideration of individual needs in driver planning (night driving, long-distance traffic, weekends and public holidays, etc.)
Assumption of necessary training and further education costs for explosives and ADR advanced course tank, if required
Even if we currently have no vacancies, we look forward to receiving unsolicited applications.
Contact
Personnel/Applicants:
Lorenz Rödiger
Transport requests:
Detlef Hölzer